Ascend Career and Life Strategies in Minneapolis, Minnesota
Ascend Career and Life Strategies is Minneapolis, Minnesota and the Twin Cities' Number One Choice for high-impact and affordable career coaching, resume preparation, and career outplacement services!
Since 2001, Ascend Career and Life Strategies has assisted thousands of individual and business clients achieve their professional goals and objectives. We employ a proven track record of success in helping successful people—just like you—take their career to the next level in either a new job, new career, or by starting their own venture.
We have also assisted hundreds of businesses, from start-up organizations to well-known Fortune 500 companies, offer cost-effective and comprehensive career outplacement and transition packages along with high-impact team building and motivational workshops for employees. At Ascend Career and Life Strategies, your goal is our goal. We specialize in providing you with a streamlined and straightforward approach for getting results!
Our Location in Minneapolis, Minnesota serving the greater Twin Cities area
The Fifth Street Towers Center is strategically located in downtown Minneapolis' central business district, where old companies rub shoulders with the new, traditional businesses sit alongside cutting-edge firms and large corporates mix with small companies.
The towers, which consist of two state-of-the-art buildings, are also linked by skyway to the CBD, the financial community, hotels, shops and the government center. Minneapolis is home to many diverse businesses in sectors such as manufacturing, healthcare, finance, education, logistics and merchandising. It is also popular with entrepreneurs and is said to have more small businesses per capita in the metro than any other city in the US.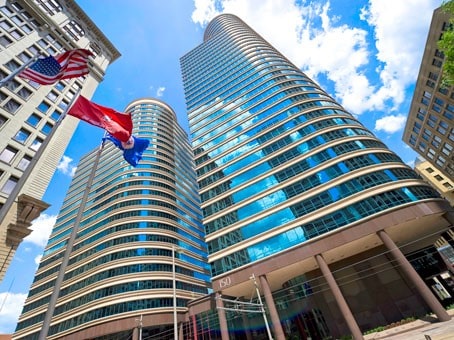 100 South 5th Street, 19th Floor
Minneapolis, Minnesota 55402
(612) 248-1067
[email protected]
For Individuals: Career Coaching, Executive Coaching, Resume Preparation
We are excited to offer our Minneapolis, Minnesota and Twin Cities area clients a high-quality and high-impact combination of job seeking, career coaching, and resume preparation services including:
For Businesses: Career Transition and Outplacement Services
Our vision of offering high-impact and affordable career outplacement, transition, and professional development programs has inspired Ascend Career and Life Strategies' mission of helping organizations improve productivity, maximize leadership effectiveness, and reduce workplace turnover. The Ascend team works in partnership with your organization in designing and implementing a career development and/or workforce transition strategy to proactively prepare, guide, and support employees to meet today's market and workforce needs.
We do not take a "big-box or cookie-cutter" approach. Our goal is not to become the biggest – only the best at what we do. The needs of both your business and your released employees are unique. Whether you employ five or five hundred, Ascend offers career outplacement services in Minneapolis, Minnesota and the greater Twin Cities area to fit your organization's scope and budget. At Ascend Career and Life Strategies, your company's bottom-line results are our full-time job!
Job search seminars and workshops.
Assignment of a designated career coach and regular coaching meetings: in-person, on-site, via phone, or Zoom.
Resume, cover letter, and other supporting document assembly, review and best practices.
Development of an individualized career Marketing Action Plan for each client.
Complete social media account instruction and set up.
Enlistment with the top staffing agency and recruitment firms.
Unlimited ad hoc advisement and support in-between regular coaching sessions.
Convenient office use at any of our business center locations throughout the Minneapolis, Minnesota and the greater Twin Cities area.
Spousal or partner career coaching support at no extra charge.
Financial and retirement account guidance from one of our esteemed financial partners.
Our support and presence for HR and management personnel during the termination meeting(s) and process.
Need something else or have an ad hoc request, just ask!
Ascend Does Things Differently
A New Economy Approach to Career Outplacement—cost effectiveness, personal service, and superlative quality
As a proven industry leader, Ascend offers a comprehensive and client-focused approach while offering a robust suite of services at an affordable price. Our main focus is to provide a career outplacement and transition plan that is both in alignment with the employer's budget and goals and provides the released employee with the professional advisement they need to land a job in an expedite manner.
Many career transition companies are now employing a virtual-only model, emailing YouTube links, enlisting participants in mass job search "classes" and providing them with a 3-ring binder full of superfluous information.
Every client is different and unique and thus so are their needs. Our coaches are well-versed in specifically crafting a job search plan based on each client's goals. We also understand the emotional element that can come along with any loss of employment and are quite experienced in working with clients from this perspective too.
At Ascend, providing a superior experience for both the providing company and released employee is our number one priority. No hidden administrative costs, fees, or fine print. You only pay for what you need—period. Every outplacement plan and service we offer comes with a 100% Client Satisfaction Guarantee.
Select career outplacement and transition clients
Our Full-Time Employment Promise
We are so confident in the quality of our career advisement services, after the designated time period for the career transition agreement has expired, Ascend Career and Life Strategies will remain as a virtual resource and information base for the released employee, answering any questions they may have or providing support that they may require, at no additional cost. We will stay engaged and committed until the client reaches their goal of bona fide full-time employment.
Call us at (612) 248-1067 or contact us by email at [email protected] to learn more about how we can help you assemble an action plan that's customized, affordable, and gets results.
At Ascend, your business' reputation, bottom line, and continued success are our full-time job!